Corporate Division
MSS Corporate Division offers courses and consultancy for companies and organizations that focus on the needs of each. Among the things we can offer are the educational manager on loan to the workplace, needs analysis, preparation of educational plans, short concise lectures, short or long courses, working days, planning and teamwork among the staff.
MSS offers a wide range of services for companies and institutions, which aim to adapt the service to the needs of each company.
Examples of corporate services provided by MSS:
Issues related to business development within companies
Needs analysis of educational and continuing education needs
Preparation of educational plans
Educational Manager on loan
Organization of short and long courses, lecture and team building
Working days and planning
Grant applications for course management
For more information on MSS Corporate Services, please contact the Project Manager at:
Nanna Bára - phone: 412-5981 - Email: nanna@mss.is
Hólmfríður - phone: 412-5962 - Email: holmfridur@mss.is
Diana - phone: 412-5970 - Email: diana@mss.is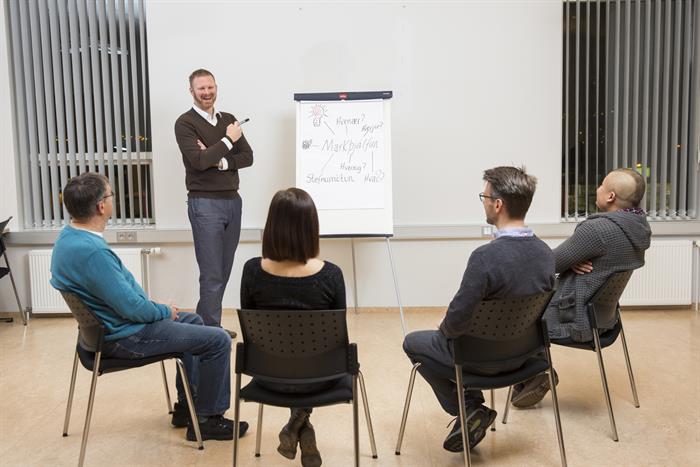 Grants for Lifelong Learning
Businesses can apply for grants to vocational training funds for up to 75% of the cost of training courses, significantly reducing the costs that the company would otherwise face. The rules for the funds can vary, but MSS can assist with these applications. These grants are outside of the individual grants that employees can apply for themselves.

Educational and career counseling
MSS employs study and career counselors who offer counseling for everyone. The consultants can assist in setting goals, assessing interests, skills, and personal strengths.
MSS consultants have a lot of experience when creating CVs, assisting with job applications, and providing all the information regarding the skills assessment. MSS offers counseling / psychotherapy for extended periods of time for individuals who need follow-up in the wake of traumatic or personal difficulties. Stay in touch and we tailor the advice to your needs.

Computer Lab
MSS is a fully equipped computer center and in collaboration with experts in various fields, so we can offer most computer courses that workplaces are looking for. Companies and organizations are also offered to rent the computer lab for their own courses.

Coaching
MSS offers coaching for individuals and companies. Coaching is a methodology that aims to bring out the best in each one. In coaching, the focus is on the individual to find solutions for each case. The coach manages the process and focuses on the individual himself at the heart of the matter.
Coaches work systematically to activate the individual and assist in the implementation of realistic and effective remedies. Exercise training has also proved to be a good tool for finding solutions to specific problems within companies and organizations.
Who is coaching for?
Athletes do not go to a competition without a coach. For the best results, they rely on the coach to keep track of, offer support, and encourage them inside and outside the field. With coaching methods, the same is achieved: motivation to reach as long as possible, competitive advantage and maximum success. Coaching is therefore for everyone who wants to succeed – whether in work or in private.